Press
>a href="https://twitter.com/LaRoo/status/1234991525722898433?s=20 ">">
https://twitter.com/i/status/1234991525722898433
-

https://www.dropbox.com/s/m493whyl0smdz0t/Screen%20Shot%202021-06-22%20at%2015.11.06.png?dl=0

https://wefunder.com/storyantics/buzzp0

https://ukmums.tv/competition/win-a-personalised-recipe-storybook-and-a-kids-apron/
https://www.dropbox.com/s/wrkbaq0ovhsp59x/Screen%20Shot%202021-06-22%20at%2015.30.05.png?dl=0
Story Antics: Educational personalised storybooks for children that extend their learning beyond the classroom. | Wefunder
https://ukmums.tv/competition/win-a-personalised-recipe-storybook-and-a-kids-apron/p0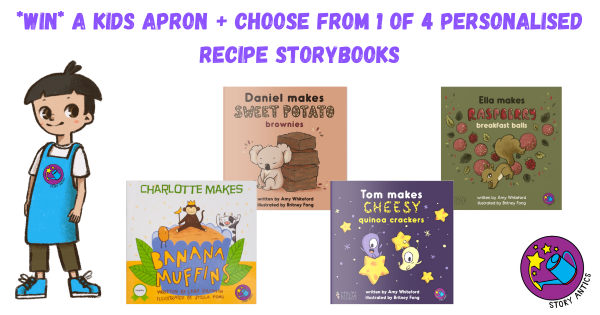 Want to get your child interested in cooking, reading and learning?  Look no further than these fabulous personalised recipe storybooks from Story Antics.  In addition to promoting active reading and language development, the Story Antics personalised recipe storybooks tap into something educationally greater; cooking with children gives a sense of accomplishment, encourages better eating habits, involves maths through measurement and improves dexterity.
We have three prize packs up for grabs, each with an apron and personalised healthy recipe storybook, choose from Banana Muffins, Raspberry Breakfast Balls, Cheesy Quinoa Crackers or Sweet Potato Brownies.  The recipes have been developed by food scientist Amy Whitehead from Healthy Little Foodies, so you know that there is nothing artificial inside!
In each recipe storybook you choose the gender, name, hair, skin and eye colour of the child chef and their adult helper!
To enter, simply answer the question below and leave your details before the closing date of Monday 8th June at 3pm. Good luck!
Can't wait to see if you've won or not chosen as a lucky winner?  For more information jump online at www.storyantics.com.
This competition is also listed on Loquax and Competitions-Time.
COMPETITION CLOSED
https://twitter.com/LaRoo/status/1234991525722898433?s=20
https://www.youtube.com/watch?v=40Xa3-pE9IY
Skip to content
Story Antics In the Media
Check out Story Antics in the Media. Hear from bloggers, Instagram influencers and other digital platforms and their thoughts about our personalised storybooks. Read on to see where Story Antics has been featured!
An article on the Toddler Fun Learning website on their 7pm section featuring our Handwashing Storybook, May 2020.
The Rogue Ginger added our Bin Chicken to Books that Will Inspire Kids to Protect ourPlanet.? Thank you 🙂
@EasternSuburbMums gave us some love on instagram for our Banana Muffins recipe storybook
April 2020
Some insta love from @HarryandPop after their adventures making Banana Muffins, April 2020.
Banana Muffins giveaway in Just Kidding magazine, April 2020
Banana Muffins book giveaway in National Geographics Kids magazine, April 2020
Herald Sun weekender on March 28th featured Story Antics as one of the 20 Books of ideas and activities that will keep kids busy for hours?
Great write up from Coast Kids magazines in Melbourne. March 2020.
March 2020 Just Kidding Kids mag promoted our Banana Muffins personalised storybook with a competition.
Story Antics got featured on Studio 10 morning TV show on March 3rd 2020, where they raved about our storybooks!
Pakmag featured our Christmas storybook as a festive activity to do in the lead up to Christmas – read a Christmas story.
Startup Daily asks a number of entrepreneur's what their holiday plans are for the Christmas period.? Here is what Story Antics founder Lara told them in December 2019.? To read the full article go to Startup Daily.
@Bubsandreviews in Brisbane loved the Shark Swim book we sent over.
Story Antics was featured in?Onya Magazine's Make Merry Monday #21!?As their choice for "read", Onya Magazine stated:?
"Weaving together thoughtful and enchanting narrative with striking artwork from emerging and established Australian illustrators like Kat Fox and Ari Lobos, Story Antics is the brainchild of author Lara Solomon!"
Finding Myself Young wrote a great blog post about Story Antics! Toni absolutely loved this "truly unique present".?
?
"When our storybook arrived, it was even better than I was anticipating. It was packaged beautifully and extremely carefully so it wouldn't get damaged in the mail. The book?
Ari from @thissweetlife_ absolutely loved his personalised Christmas storybook!?
"It would be a great addition to a Christmas Eve box. It's a personalised book which he thought was amazing and is certainly getting him excited for the festive season!"
@mummy_mya?was super excited to receive their personalised storybook!?
@british_dad_in_melbourne? loved the well made and different story options that are customisable!?
@the.mama.daze?was super excited to receive our storybook!??
Story Antics was featured in Cool Mama's Gift Guide! Check out MamaDisrupt.com for more!?
Story Antics collaborated with?Hot 100 FM?on a competition to win one of our storybooks!?
Story Antics was #3 on Baby Vine's Ultimate Christmas Wishlist for 2019!?
We are also part of the Baby Vine Directory!?
"Weaving together thoughtful and enchanting narrative, Story Antics' personalised books give young readers the opportunity to be their own hero in a handful of quirky tales…"
Story Antics was featured in Mums Delivery's 2019 Christmas Gift Guide!?
Insta mum,?Loved by Emily, absolutely adored our Christmas book!
"Thank you for the sweet little personalised book!"?
Story Antics made an appearance on?Made for Madison's?Instagram Stories!?
"This makes such a cute little Christmas gift!"?
Story Antics was featured on the Mouth of Mums?website?and?Facebook?page!? We helped give the gift of reading this Christmas by given their members the opportunity to win 1 of 13 Story Antics Book Vouchers!
The Four Crazy Dinosaurs were featured in?The Standish Tales' instagram stories! It's safe to say that her little boy loves the personalised book!?
"It's about how you respond to it": What to do if your co-founder exits suddenly
Our Chief Story Teller, Lara, was featured in an article by the Smart Company. She speaks about the experience of running a start-up and her strategy for the future! Check out the full article?here.
Tot Hot or Not Reviews: Shark Swim
Our storybook,?Shark Swim, was featured in Tot Hot or Not's?Instagram?page! Sue gushed about Story Antics and the storybook. "Shark Swim celebrates friendship and raises awareness of environmental consciousness. Just the right type of story for a curious child."
?
?
40 Year Old Dad calls Story Antics "a parents dream come true"
Story Antics was featured in a blog post by the 40 Year Old Dad. He describes Story Antics as a "parents dream come true". His children truly loved the story.
"When i asked if they prefer stories about themselves or just regular stories, it was a resounding thumbs-up to themselves. Just as I thought. We are all heroes in our own heads, but now you can be one in print forever."?
?
Raising 2 Little Men Reviews: The Four Crazy Dinosaurs
Story Antics Storybook, The Four Crazy Dinosaurs, was featured on insta-mum, Keira. Her page, Raising 2 Little Men, included a little review of our storybook. "I love the ability to personalised, and the crown makes the entire package fun for kids."?
Story Antics featured in 11 Brilliant Gifts Under $50 for Kids – Mums Central
11 Brilliant Gifts Under $50 for Kids:?Story Antics was featured in Mum Central's blogpost about great gifts you can give to kids.?
"We love the Christmas Book with its 36 Pages of beautiful hand-drawn illustrations…This is a worthy entry to our list of gifts under $50!"
Kat and Fox, illustrator of Alfie's Present, was featured in an article by the Surf Coast Times. Click on the?link?to read more about the wonderful Kat Rattray.?
Our Best Sellers
Join Our Story
COPYRIGHT © 2021 STORY ANTICS
<img height="1" width="1" style="display:none" alt="fbpx" src="https://web.archive.org/web/20210116220220im_/https://www.facebook.com/tr?id=410838709833365&amp;ev=PageView&amp;noscript=1"/>